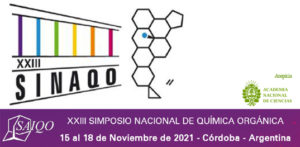 El miércoles 22 de septiembre, organizado por la Sociedad Argentina de Investigación en Química Orgánica y auspiciado por la Academia Nacional de Ciencias,  se llevará a cabo el último Ciclo de Conferencias virtuales denominados XXIII SINAQO – Virtual Opening Meetings (VOMs), previos al XXIII SINAQO (Simposio Nacional de Química Orgánica).
El programa del 3er. VOM titulado "Sustainable Science in Organic Chemistry- Ciencia Sustentable en Química Orgánica", es el siguiente:
9:55 – 10:00 am (ARG)
Apertura.
10:00 – 10:40 am (ARG)
Conferencia The chemistry of reticular materials for carbon dioxide capture, regeneration, and conversion.
Dr. Kyle E. Cordova (Royal Scientific Society, Amman, Jordan).
10:40 – 11:20 am (ARG)
Conferencia Semi-synthesis as a tool for broadening the health applications of bioactive olive secoiridoids.
Dr. Antonio Procopio (Department of Health Sciences, Magna Graecia University, Catanzaro, Italy).
11:20 – 12:00 am (ARG)
Conferencia Heterogeneous photocatalysis for sustainable organic transformations.
Dra. Anabel Lanterna (School of Chemistry and Green Chemistry Beacon, University of Nottingham, UK).
12:00 am (ARG)
Cierre y presentación del XXIII SINAQO (15 al 18 de noviembre).
Para participar hay que inscribirse previamente aquí.
¡Esperamos contar con su participación!!!
Los saludamos cordialmente,
Comisión Organizadora
XXIII SINAQO

https://sinaqo.congresos.unc.edu.ar/