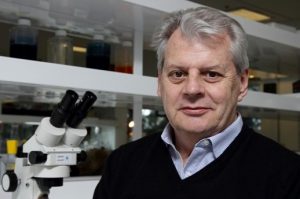 La Academia Nacional de Ciencias tiene el agrado de invitar a Usted al Acto de Incorporación del señor Académico Dr. Alberto Carlos Frasch.
El evento,  durante el cual el Dr. Frasch ofrecerá la conferencia De la investigación a la gestión científica, se llevará a cabo el viernes 27 de noviembre, a las 18 hs, en https://us02web.zoom.us/j/83529005975.
Alberto Frasch, que será presentado al público presente por el Académico Dr. Armando J. Parodi, fue incorporado a la Academia Nacional de Ciencias en reconocimiento a quien dedica su vida a la ciencia, tanto por el mérito de sus antecedentes científicos y personales como por lo que ha hecho por el desarrollo de su especialidad en la Argentina.
Contamos con su presencia.
Alberto Carlos Frasch
Es Dr. en Odontología de la Universidad de Buenos Aires (UBA) y realizó un posdoctorado en la Universidad de Ámsterdam en genética molecular de tripanosomas africanos. Ha sido becario e investigador del CONICET (Investigador Superior), en la Facultad de Odontología y en la Facultad de Medicina, UBA, en la Fundación Instituto Leloir y en la Universidad Nacional de San Martín (UNSAM). Ha sido Profesor de Genética Molecular de la Facultad de Ciencias Exactas y Naturales de la UBA, Profesor de Genética Molecular en la UNSAM y Director y Decano del Instituto de Investigaciones Biotecnológicas (IIB-INTECH, UNSAM-CONICET). Actualmente es Vicerrector de la UNSAM.
Su tema de trabajo ha sido genética molecular y patogénesis de tripanosomas, en particular del Trypanosoma cruzi (microorganismo causante de la Enfermedad de Chagas). Más recientemente desarrolló investigaciones sobre el efecto del estrés crónico en la expresión de proteínas en hipocampo. Frasch ha dirigido 23 tesis doctorales y ha publicado más de 170 artículos originales y revisiones en revistas internacionales.
Ha sido Asesor y Chairman de varios comités del Programa Tropical Diseases Research (TDR) de la Organización Mundial de la Salud (WHO, Ginebra,1983-2010), incluyendo Chairman del comité de Enfermedad de Chagas y del de Genomas de Parásitos. Entre otros ha recibido J.S. Guggenheim Fellowship (2001), Third World Academy of Sciences Award in Biology (2000) y Diploma al Merito Konex (2003) y Konex Platino (2013). Ha sido International Research Scholar de Howard Hughes Medical Institute, USA, durante tres períodos (1997-2011) y es Foreign Associate de la National Academy of Sciences, USA, desde 2006.
Incorporación a la ANC del Dr. Alberto C. Frasch
Viernes 27/11/20 – 18 hs
Unirse a la reunión de Zoom en:
https://us02web.zoom.us/j/83529005975
ID de reunión: 835 2900 5975
También podrá verse la transmisión en vivo en Youtube.