The Museum of Zoology (MZUC) was created with the purpose of gathering, investigating, classifying and conserving specimens of the Argentine fauna obtained from the exploration of the national territory, as a scientific resource for the academic field, and as an auxiliary means in the higher education of Zoology.
Currently, the Museum also fulfills a diverse educational work at all levels, putting its facilities, exhibitions and special activities at the service of society and its full development.
Its constantly growing collection houses some 20,000 specimens from the main zoological groups on the planet, both Invertebrates and Vertebrates. Of those, 1,180 natural objects (complete specimens, skeletons, eggs, shells, etc.) are permanently exhibited in its exhibition rooms. These highlight the natural heritage of Argentina, emphasizing the central region of the country. Along with common species, it is possible to appreciate examples of endemism such as those of the Pampa de Achala and the Salinas Grandes, continental migratory birds, and animals threatened to be extinct due to their overexploitation as a resource or due to the alteration of their habitat. They are presented to the visitor following a systematic arrangement and, in many cases, in dioramas setting their ecosystems; all accompanied by explanatory panels.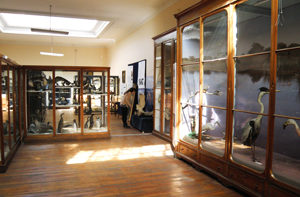 Visiting days and hours
Monday and Tuesday from 9.30 a.m. to 12.30 p.m. and from 2.30 p.m. to 5.30 p.m.; Wednesday and Friday from 9.30 a.m. to 1.30 p.m.
Phones
0351-4332102 / 03 extension 116 (Address) / 0351-5353800 extension 29901 (Shifts and inquiries for visits)
Shifts and inquiries for guided tours
Address
Website
http://www.zoologia.museo.efn.uncor.edu