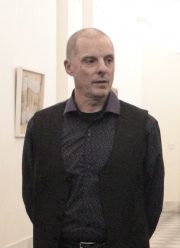 Place and date of birth: Cosquín, Córdoba, Argentina 03/05/1953
Date of appointment: 19/09/2007
Discipline of incorporation: Biological Sciences
Field of Science – specialty: Botany
Actas C. D. relacionadas: Appointment as Academic
He has developed his career at the Faculty of Exact, Physical and Natural Sciences (FCEFN) of the National University of Córdoba (UNC), where he received the titles of Professor in Biological Sciences, Biologist, and Doctor in Biological Sciences. He  dedicated both to research in Botany and to the teaching of Biology.
He was Vice Dean of the FCEFN (2007-2010), Academic Secretary of the UNC (2010-2013), President of the Argentine Botanical Society (2016-2020), Director of the Master of Education in Experimental Sciences and Technology (2005-2014), of the Collection of Natural Sciences of the Editorial of the UNC (2007-2016) and from the Bulletin of the Argentine Botanical Society (2000-2018). He is Full Professor of the Chair of Introductory Biology (since 1990), Senior Researcher at CONICET (since 2010), Director of the Botanical Museum (since 2012), and Director of the Multidisciplinary Institute of Plant Biology (since 2017).
Among the distinctions that he obtained in his career, mention should be made of the Bernardo Houssay Prize (1987) from CONICET, the Lorenzo R. Parodi Prize for the 1985-1986 biennium of the Argentine Botanical Society and his appointment as Corresponding Member of the Botanical Society of America (USA, 2006). He has published more than 160 scientific papers in top-level scientific journals, both national and international, in aspects of biosystematics (with special reference to the Solanaceae family), reproductive biology, and cytogenetics of Angiosperm plants. The pioneering studies of him in our latitudes on floral nectar stand out.