In the Museum of Paleontology you will see a great variety of fossils. The fossils represent evidence of beings that lived more than 10,000 years ago, including plants and animals. These evidences are very varied, and include bones, teeth, shells, trunks, leaves, eggs, and footprints, among others. Mostly you will find fossils from our country, but there are also fossils from other countries such as Germany, Brazil, China and France.
The fossils that we exhibit in the Museum of Paleontology come from the last three geological eras. These geological eras are intervals of time that last many millions of years, and that are differentiated mainly by the types of animals that lived in them.
In addition, you will be able to find the Discovery Room. Younger visitors can play with dinosaur models, see fossils with magnifying glasses, draw pictures and read books about extinct animals.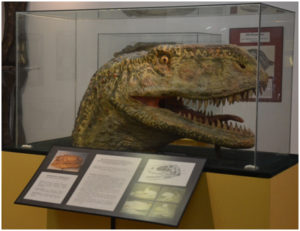 Visiting days and hours
Monday to Friday from 10:00 to 18:00.
Phones
0351-4332098 extension 256
Email
Facebook
www.facebook.com/museodepaleontologia.unc
Paǵina web
http://www.paleontologia.museo.efn.uncor.edu/