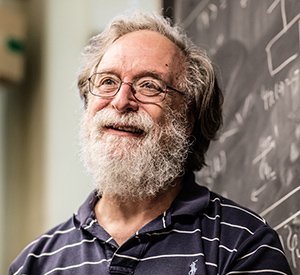 La Academia Nacional de Ciencias tiene el agrado de invitar a Usted al Acto de Incorporación del señor Académico Dr. Eduardo Fradkin.
El evento, durante el cual el Dr. Fradkin ofrecerá la conferencia Fases Topológicas de la Materia, se llevará a cabo el viernes 7 de mayo, a las 18 hs, en el Salón de Actos Virtual de la ANC – ID ZOOM: 824 5464 9116.
Eduardo Fradkin, que será presentado al público presente por el Académico Dr. Carlos A. Balseiro, fue incorporado a la Academia Nacional de Ciencias en reconocimiento a quien dedica su vida a la ciencia, tanto por el mérito de sus antecedentes científicos y personales como por lo que ha hecho por el desarrollo de su especialidad en la Argentina.
Contamos con su presencia.
Eduardo Fradkin
Nació en Buenos Aires el 21 de febrero de 1950.
Licenciado en Física por la Facultad de Ciencias Exactas y Naturales de la UBA (1973), obtuvo su Doctorado en Física en la Universidad de Stanford (California, EEUU) en 1979. Realizó sus estudios postdoctorales en la Universidad de Illinois (1979-1981) y es miembro del cuerpo de profesores de esa institución desde 1981: Assistant Professor (1981-1984), Associate Professor (1984-1998), Full Professor (desde 1989), Donald Biggar Willett Professor of Physics (desde 2015), Center for the Advanced Study Professor (desde 2017) y director del Instituto de Teoría de la Materia Condensada (desde 2011).
Ha dirigido 26 tesis doctorales, una maestría y 35 postdoctorados. Fue profesor y/o científico visitante en diversas instituciones de Argentina y el mundo: Universidad de la Plata, Universidad de Buenos Aires, Instituto Balseiro, CONICET, Kavli Institute for Theoretical Physics (Universidad de California), Stanford University, École Normale Supérieure de Paris, Commission de la Enérgie Atómique (Saclay, France), Universidad Pierre et Marie Curie, la Universidad de Oxford y NORDITA (Suecia).
Trabaja en teoría de física de materia condensada y estadística y en teoría cuántica de campos, especialmente en fases de teorías de gauge, superconductores de alta temperatura y el efecto Hall cuántico.
Es fellow de la John Simon Guggenheim Foundation, de la American Physical Society, de la American Academy of Arts and Sciences (EEUU), miembro de la National Academy of Sciences (EEUU) y de la Academia de Ciencias de América Latina. También es miembro del consejo de directores del Journal of Statistical Mechanics (JSTAT) y del consejo editorial de Annual Reviews of Condensed Matter Physics.
Ha dirigido subsidios de la National Science Foundation (EEUU), de la división de ciencias básicas del Departamento de Energía (EEUU), de la Gordon and Betty Moore Foundation (EEUU), de la Agencia Nacional de Promoción de la Ciencia y la Tecnología (MinCyT), el subsidio César Milstein (MinCyT) y del programa NSF-CONICET.
Ha publicado más de 250 artículos y tres libros.